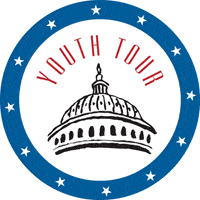 Calling all rising seniors within the Laurens Electric service area: We're offering up to four students one of these two amazing trips in the summer of 2019.
From June 15-20, students on the Washington Youth Tour fly to our nation's capital for a chance to meet lawmakers, tour the sights and have a whole lot of fun. July 9-12, students at the Cooperative Youth Summit drive to Columbia to experience South Carolina's capital city like never before.
Both are all-expenses paid and allows participants to explore the D.C. or Columbia area, meet other students from across the state and country, and learn more about and promote electric cooperatives.
To qualify, contestants must submit an application, complete with personal references. Finalists will be selected to appear for interviews by a committee of judges, and winners will be announced following the interview process.
Click here to download the application or complete the online application below. For more information, contact Laurie Riser at laurier@laurenselectric.com or 1-800-942-3141.
Like Washington Youth Tour on Facebook
Student Application Instructions
QUALIFICATIONS
Applicant must be a high school junior at time of application.
Applicant's parents, guardians, or relatives may not be employed by or be trustees of Laurens Electric Cooperative. However, students whose parents are employees or trustees of the cooperative are eligible to participate in a separate competition. Contact Laurie Riser at (864) 683-1684, or send an e-mail to laurier@laurenselectric.com for more information.
REQUIREMENTS
An application and two letters of reference must be submitted. Only one of the two required references may be from a current school administrator or a teacher, and no references will be accepted if completed by a relative of the applicant. It is your responsibility to ensure that reference forms are received by February 8. Candidates will be disqualified from the competition if references are received after the deadline. Download the reference form here. References and applications should be completed and returned by mail or email by 5 p.m. on February 8 to: Laurie Riser, LaurieR@LaurensElectric.com, Laurens Electric Cooperative, Inc., P.O. Box 700, Laurens, SC 29360.
JUDGING
Candidates will be judged on the basis of their school and community involvement, references and communications skills. If chosen for an interview, a panel of three judges will question the applicants concerning their past experiences, plans for the future and knowledge of the Cooperative.
DEADLINE
Applications and references are due no later than 5 p.m. on February 8, 2019. Any applications or references received later than February 8 will not be considered.